by Bernadette Mayer and Greg Masters

At Maureen's is a double journal offering a Rashomon-like take on a month spent house-sitting in Connecticut. Two poets from the bohemian enclaves of the East Village of Manhattan do what they can to acclimate to their new rural surroundings: a horse, raspberries, visitors, diapers, books, each other and sustained moments of concentration.It's back to the garden for two writers and their families and friends. Only in this patch, which are weeds and which are flowers is not so certain. Two perspectives of the proceedings are on offer with sustained moments of concentration that enhance the details. Wonder and love blossom too.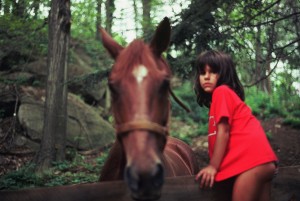 At the time this book was written, summer 1981, Bernadette Mayer was director of the Poetry Project, a literary center housed in St. Mark's Church in the East Village of Manhattan. She is the recipient of the 2014 Shelley Memorial Award and the author of numerous books of poetry and prose, including A Bernadette Mayer Readerand The Helens of Troy, NY (New Directions). Greg Masters was editor of the Poetry Project Newsletter and co-editor of the poetry magazine Mag City.
"I was so moved by this book, it is a classic. It captures not just a time and a place, but a whole value of writing that's not overblown or forced but still incredibly dynamic."

– Chris Kraus, author of Summer of Hate and I Love Dick

"…it is the dailiness of a poet's life and writing routines as transmitted by these two canny observers that makes this book so engaging and satisfying to me…I highly recommend it."

– Michael Lally, poet, author of It Takes One to Know One
The softcover edition is available domestically using PayPal:
$16.99 + $3 mailing/handling = $19.99 total.
For international shipments using PayPal:
$16.99 + $15 mailing/handling = $31.99.

Please choose your option
Domestic (w/in U.S.) $14.99 USDInternational $31.99 USD
Greg Masters / 437 East 12th Street #26 / NYC NY 10009-4042.
Please make the check out to Greg Masters. Sorry, we can't accept checks for international orders. An ebook version is available for around $9.99 from most ebook publishers:
Amazon Kindle
iTunes iBookstore
Barnes & Noble
Sony
Kobo
eBookPie
epubBooks
Bookworld (Australia)
Angus & Robertson (Australia)