Reflections from one mind in three disparate locations at three different times.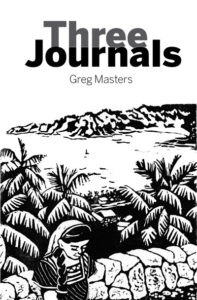 NEW YORK, April 2017 – Crony Books is pleased to announce the publication of Three Journals, the sixth book by Greg Masters from Crony Books.
Three Journals chronicles reflections from one mind in three disparate locations at three different times: Europe and Morocco, 1974-75; the East Village of Manhattan, 1977-1978; and Mexico, 1985. Three Journals sustains a tone throughout that is an appreciation of basic dailiness and confirms a process rare in books these days – thought and then energizing thought by expressing it in enlivened language. While on the surface it chronicles wanderings through Europe, Mexico and domestic adventures from Manhattan's East Village, really what's occurring is a lively and discerning examination from three locales at three stages of adulthood.
"Greg's writing is so descriptive and candid and perfect."
– Chris Kraus, author of I Love Dick and Summer of Hate

Three Journals…is really a joy to read, full of insight and the pleasure of being accompanied by an urbane guide. I loved how Masters observed things and then swerved away from them just as easily. A case in point: "Manhattan has a new hairstyle. It affects everyone." And that's all we learn about it. Perfect!

– Vincent Katz, author of Southness, Swimming Home

Arya Fomonyuy, writing for Readers' Favorite, said: Three Journals by Greg Masters is a masterpiece in the area of journaling, a great work featuring powerful journal entries. No, readers are not offered gripping plots they'd find in thrillers, but the kind of writing that transports them and forces them to look at life through some historic moments in three different locations and times, reflections from a mind with a rare sense of acuity…This is a book that captures the soul and the spirit of the periods it covers with vivid clarity and one cannot help falling in love with the setting, the historical references, the cultural and social commentaries, and the very life throbbing within the narration….The author captures reality in its minutest detail without coming across as boring. Three Journals by Greg Masters presents the musings, the adventures, and the low and high moments of someone who feeds his consciousness by capturing the reality within his milieu in powerful and seductive prose.

Four five-star reviews on Amazon:

"…an enjoyable sojourn…"

"Nonfiction masterpiece"

"A great find"

"A non-fiction gem!"

"A delightful read"
When he arrived in Manhattan's East Village in the mid-1970s, Greg Masters pounded rock and roll drums and began attending readings and workshops at the Poetry Project at St. Mark's Church and the Nuyorican Poets Cafe. Along with Michael Scholnick and Gary Lenhart, he edited the poetry magazine Mag City from 1977-1985. In 1977-78, along with poet comrades, he organized and produced a cable TV show, Public Access Poetry, now available online thanks to the Poetry Project. From 1980-83, he edited the Poetry Project Newsletter. His poems have appeared in a number of glorious obscure publications. This is his sixth book from Crony Books.
The 184-page paperback, Three Journals (ISBN 978-0-9859267-9-3) is available for $15 online at Book Baby, Amazon, Barnes & Noble, and other bookstores and distributors, domestic and global.
An ebook version (ISBN 978-0-9974285-2-0) is available for $2.99 globally from most online sources, including Amazon Kindle, iBooks, Nook by Barnes and Noble, Kobo, Copia, and more.
Review copies, images and more information are available from greg@cronybooks.net.