Reviews of music and literature by Greg Masters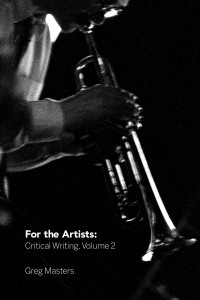 While For the Artists: Critical Writing, Volume 1, issued in early 2014, focused on Masters' collected writings on the visual arts, this new volume gathers reviews of music and books, including critical essays and an interview with musician/writer Richard Hell.
Perhaps most prominent are a series of essays on the electric period of Miles Davis. In-depth reviews examine the aural sensations this creative artist forged in the late 60s through mid-70s, a continual reinvention of sounds that, as Masters claims, is "rebellious in its uncompromising intensity and uncategorizable for its urgent flooding past genre definitions."
The eclectic book also examine the work of Gertrude Stein, William Wordsworth, William Carlos Williams, Blaise Cendrars, Eileen Myles and Chuck Wachtel, among others.
Age of Mimeo • Animal Logic • Bluestones and Salt Hay • Buzzcocks • William Burroughs: Letters to Allen Ginsberg • Blaise Cendrars: Collected Poems • Miles Davis: The Cellar Door Sessions 1970 • Miles Davis, The Complete On The Corner Sessions • Miles Davis: Electric Miles • Miles Davis: Review of two new books on the making of Kind of Blue • Miles Davis: Review of Wall to Wall Miles, a tribute at Symphony Space • Allen Ginsberg • Charlie Haden: Liberation Music Orchestra • Richard Hell/Amanda Uprichard Interview • Deborah Holland: Freudian Slip • Mag City • Edgar Lee Masters: Spoon River Anthology • Eileen Myles • Finding and Not Finding Voice: Gertrude Stein's Three Lives • Chuck Wachtel: Joe the Engineer • Chuck Wachtel: The Gates • William Carlos Williams/Marcia Nardi • Woodstock • Wordsworth and the SublimeReview copies, images and more information are available from: greg@cronybooks.net
Greg Masters always hears things others miss." – James Hale, DownBeat magazine contributor
The 176-page softcover edition (ISBN: 978-0-9859267-5-5) is available for $9.99 from Crony Books via PayPal.